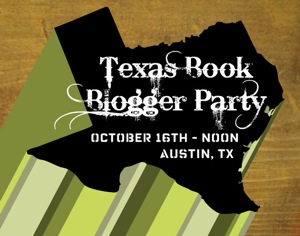 Before I go on about my current reads I have to mention the upcoming Texas Book Blogger gathering. I'm so excited. I've been blogging for six years and have yet to meet a book blog friend so this is super cool for me. As we have the Texas Book Festival coming up it's a perfect way to meet bookish friends. For more details visit Amanda at The Zen Leaf. I live in Austin so if anyone needs any suggestions on restaurants, places to visit (after the Festival), etc. just let me know.
Alright and now about the books I'm reading. First up is Farenheit 451 by Ray Bradbury. I am loving this book. I'm finding it strange, sad and scary. The words make the imagery come alive. Take this example: "Books bombarded his shoulders, his arms, his upturned face. A book lit, almost obediently, like a white pigeon, in his hands, wings fluttering." Definitely a perfect read for Banned Book Week.
The other book I'm greatly enjoying is The Leavenworth Case by Anna Katharine Green. She is credited with introducing the first American detective to readers. In this story a wealthy New York man is murdered in his home and signs strongly point to one of his nieces as being the culprit. It will be up to Detective Gryce to figure out whodunit and while this is very readable and makes you wonder how it will end I'm finding it interesting that the detective seems to be in the background. I feel as if I know every other character but him. Interesting.
For something a bit different I'm dipping into Peace Is Every Step by Thich Nhat Hanh. How do we connect to the peace that is available in each moment even when you think you'll lose your cool with a co-worker, a driver who cuts you off, etc. The meditations and observations may seem simple but the key is to put them into practice. I feel like I should be sipping tea and listening to some soft music when I'm reading this book. It makes you feel all cozy.
Finally, I'm not sure what to think about Writing Jane Austen by Elizabeth Aston. The premise is clever, a writer who has writer's block gets the opportunity of a lifetime – to complete an unfinished Austen manuscript, but my problem is that one character is really annoying me. Not the main character which is a good thing but her publisher is driving me crazy. I started this book before I went on vacation and haven't picked it back up so maybe my reaction will be a bit different now. I don't know. Who's read it and what do you think, should I continue with it?
So that's it for now. Tomorrow I'm hoping to stop off at the library as I've got some books on hold. Yippee.