I'm in the middle of three books right now, two of which I'm just loving, and I thought I'd tell you a little bit about those today.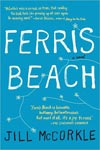 Ferris Beach by Jill McCorkle is an ARC I received a few months ago. The funny thing is that I had mooched a copy around the time I received it after I had read a really good review of this book by Danielle. It's been such a treat to read the story of the young Katie Burns as she grows up in the 70s. She befriends Misty a girl who is completely different from her and who's family is also quite the talk of the neighborhood.
I think what makes this book so special is that it feels very true to the time. Granted, the 70s weren't that long ago but sometimes there's a feeling that the author is trying too hard to set the scene or I don't know. I can't quite explain it, but this novel just feels genuine.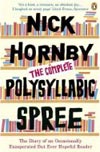 My other read is The Complete Polysyllabic Spree by Nick Hornby, a book I bought in Germany two years ago I think. It may  have taken me a while to get to it but I'm savoring it now for sure. For a bookworm this is the perfect companion.
This book is a compilation of the columns Hornby wrote for The Believer. They span two years and cover everything from books he's currently reading, books he's bought, the staggering amount of TBR piles and just general book talk. I love it.
"I suddenly had a little epiphany: all the books we own, both read and unread, are the fullest expression of self we have at our disposal…. But with each passing year, and with each whimsical purchase, our libraries become more and more able to articulate who we are, whether we read the books or not."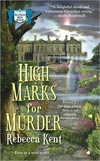 My other read is a cozy little mystery, High Marks for Murder by Rebecca Kent. I haven't gotten very far into this  one and right now I'm not quite sure how I'm feeling about it.
Located in the English Cotswolds, Bellehaven Finishing School, is where the well-to-do send their daughters to turn any high-spirited or incorrigible girl into a refined young lady. What the parents probably didn't expect was that a little murder was going to be happening on the school grounds. It'll be up to the headmistress, Meredith Llewellyn, to find out what happened.
I don't read many cozy mysteries but I was in the mood for one the other night. Like I said, still too early to tell about this one but I'll keep you posted.
So those are my current reads. I have some library holds waiting for me though so after I pick them up I may have to dip into one or two as well. So have you read any of these? What did you think?