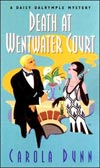 Believe it or not, I've only got one book going on, Death at Wentwater Court by Carola Dunn. I was looking for a good, cozy mystery and I know Danielle has often talked about this series so I thought it sounded like the perfect read, and so far so good.
The setting is 1923 England and a smart and independent young woman, Daisy Dalrymple is more concerned with her writing career than being just another flapper. What I've read so far of Daisy I really like. She's charming, intelligent and seems to have a lot of common sense.
You know what these books remind me of? Two of my other favorite heroines, Maisie Dobbs and Ursula Marlow. As I'm caught up on those series and eagerly awaiting the next installments, Daisy seems to be a wonderful addition to my favorite female sleuths. I went to the bookstore today to look for the second book (that's how much I'm enjoying this book, already looking forward to the second one!) but I couldn't find it. I guess I'll be making another trip to the bookstore later this weekend.
Anyway, what are you reading this weekend? Whatever it is, I hope you are enjoying it! I look forward to finishing up my book this weekend.