I didn't get as much reading done over the weekend as I had planned (doesn't that always happen?) but I've got a few good books going on so let me tell you about those.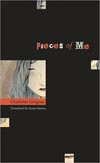 First, is Pieces of Me by Charlotte Gingras and translated by Susan Ouriou. This novel is about Mirabelle who is struggling with loneliness and being alone with her mother, who isn't emotionally stable. Mira, as she prefers to be called, is almost fifteen and envisions a life for herself as a wildlife painter one day but until then she loses herself in books and drawing.
There is something very sweet and poetic about this story. I love the focus on nature that Mira has and how she's able to find some peace in that. I'm about half way through and she's finally discovering what it's like to have a real best friend and laugh.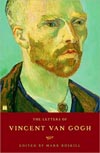 My next read is a book I picked up for the Art History Challenge, The Letters of Vincent Van Gogh, edited by Mark Roskill. The letters complied span more than 25 years of Van Gogh's life, and are mainly the ones he wrote to his brother Theo.
I admit I haven't gotten very far because it had a long introduction, which I tend to skim because I don't like introductions too much. I prefer to dive in but I've been reading it and following it there is a brief biography written by his sister-in-law. Again, I just want to get to the letters!
And, I know I've read this before but it still shocks me a bit to see that he died at the age of 37 just as he was about to reach fame.
Anyway, for a bit lighter fare I've picked up True Colors by Kristin Hannah. This is the story of three sisters set in a small Washington town. I already know there's bound to be jealousy, betrayals but above all the message of the importance of sisterhood.
I haven't forgotten DailyLit either and I've just signed up to read A Simple Soul by Gustave Flaubert. Here's a snippet:
"For half a century the housewives of Pont-l'Evêque had envied Madame Aubain her servant Félicité. For a hundred francs a year, she cooked and did the housework, washed, ironed, mended, harnessed the horse, fattened the poultry, made the butter and remained faithful to her mistress–although the latter was by no means an agreeable person."
Don't you want to read more? I know I do.
Plus, I have finished two books that I must tell you about, Sleepwalking in Daylight by Elizabeth Flock and Among the Mad by Jacqueline Winspear, but those reviews will have to wait. Let me just say though that I really enjoyed both.
Anyway, I'm going to get back to my books. I am in the mood for a mystery though so let me see what I find in my stacks.