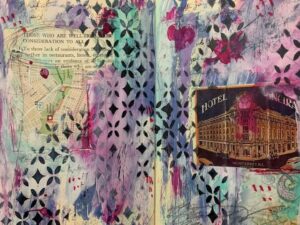 I hope you all had a nice weekend. We took advantage of the nice early morning temperatures to go for some neighborhood walks. I try not to read too many news stories on the weekend but it's hard not to notice what is going on with the wildfires in the West Coas. For all of you out there, please stay safe. I just think isn't the pandemic enough? I feel like we all need a break.
I still feel like my reading concentration is totally off although I finally finished a book this weekend but I think I'll be lucky if I read 50 books this year.
What has been helping me a lot though is crafting, especially journaling. Last fall I signed up for the Wanderlust eCourse and because I had been so busy with work and just getting used to our new normal, I kept putting it off. It is a self-guided art journaling course with chats, assignments, and videos from 27 different teachers. The course is meant as a year long project but I'm just now getting started and I am having a blast! I'm loving this so much that I've already signed up for Wanderlust 2021.
I've actually been lucky to have met some of these teachers in person at different retreats throughout the years. So if you are at all interested in something like this I would highly recommend it.
Although I am not too thrilled with this little two page spread because my colors were a bit brighter than I intended,  I did use something that was very meaningful to me and that's the main image (which I found online) of the Hotel Ancira in Monterrey, Mexico. This historic hotel was were my dad first worked when he started his career as a chef. I remember he used to take me there when I was little so we could go pick up his paycheck. And, underneath all the painting, stenciling, and scribbles is actually some journaling about some of my most important relationships.
So, if you love to write and journal and have thought about expressing yourself in different ways, do give art journaling a try. There are no rules, just a lot of freedom and play.
Now, off to do a bit of reading before bed time. Have a great week ahead!