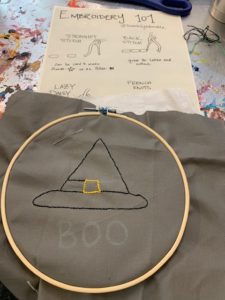 You guys, I've done it. I've gone and found another crafty thing I enjoyed! I have been meaning to try embroidery and finally registered for a class. This was taught at CRAFT which is an open studio concept space especially for crafters! They have workshops and rent the space so you can use all the supplies at hand. I saw a wall full of rubber stamps!
Anyway the class was two hours and it was so much fun. We first tried doing a straight stitch then a back stitch and then we got to begin our project. When the instructor said ok, now you can draw your pattern I was like no, I can't draw. But, I though what's something easy and so I draw something for Halloween.
As you can see, I didn't quite finish my witch's hat or the words underneath but I will work on this. It was so relaxing to sew, well unless you were wrangling knotted thread! It was either that or we were all laughing about misplacing needles.
We also received a guest pass for one hour of free play at CRAFt. You know I will be there!
Of course when I got home I had to go on Etsy to check out embroidery patterns. There are some gorgeous images but I certainly don't want to get ahead of myself. I did buy one pattern so when it gets here I promise I'll share it with you.
I can't wait to go to the bookstore next week and see what kind of embroidery books they have. I know, I sound completely obsessed right? Don't you just love it when you find something fun to try? Anyway, next post it's back to book talk.