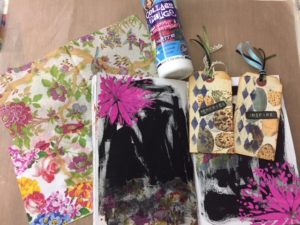 I hope you've all had a great weekend. We had a nice one but I'm just realizing I did not go out at all this weekend. I think that's a first! Took naps, spent time with my mom and my husband and I watched all of Season 3 of The Bridge. I want to know what happens next! I believe season 4 just started but I don't believe it's been released with English subtitles yet.
On the reading front I got very close to finishing My Brilliant Friend by Elena Ferrante. Unfortunately my reading has been a bit slow on this one but that's mainly because I've had to set it aside to read books that were due back at the library, etc. Good thing to note is that I'm still just as interested in the lives of these girls despite some time away from the story.
I've also been reading Where the Wild Cherries Grow by Laura Madeleine and that's been a really nice sort of comfort read. It does take place in two time frames, 1919 and 1969, and I like that. When I think about it, I actually haven't read that many books set in the late 60s so I like to read the descriptions on the clothes, etc.
Finally I did spend some time crafting. I made some tags, worked in my art journal and just had some fun with stencils and napkins! I have a ton of pretty napkins and with some Collage Pauge put them as the base on some of the tags. I wasn't as successful when I used them in my journal and it's because the black background you see is black gesso. I was hoping the napkin would be more transparent but that didn't quite work out.
Anyway, that's the scoop. Have a great start of the week. I'm contemplating going to Half Price Books tomorrow as I heard something about a sale. Haha…