I hope you all had a great weekend! I was able to take some naps, finish some books (even though I didn't participate in the Read-A-Thon!) and just enjoy some down time. Of course the weekend is never long enough right?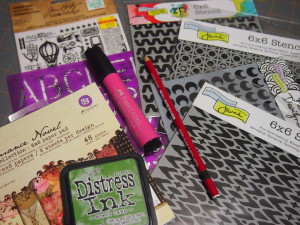 Anyway, I'll tell you more about my books finished in another post, oh and I also have to tell you about some ARCs, but aside from buying a lot of books I also like to shop for craft supplies. So I thought I'd share with you some of my latest purchases.
These are supplies I use for my art journaling. I love to use stencils and these I use to build backgrounds and also to create designs when I use my gelli plate.
I also like to use rub-ons and pretty papers. If I'm bookbinding I will use large sheets of paper that I buy at places like Paper Source or I will use the 12 x 12 scrapbook papers you can find at local craft stores. But if I'm working in my art journal or some other mixed media project then I like to use these little 6 x 6 paper pads because they have so much variety and the smaller pages fit my projects just fine.
Some other items I like to use are Ranger Ink Pads, Faber Castell brush pens and a new favorite are these Stabilo graphite pencils.
Anyway I hope you enjoyed this. Oh I didn't say where we were going on vacation in my last post did I? We are going to Vancouver! I'm so excited as I've never been to Canada. Still months away but given that the temperature reached 94 degrees this weekend, I'll be ready for cooler weather. If you've been to Vancouver and surrounding areas and have some recommendations of not to be missed things please let me know.
So tell me how your weekend was and if you got a lot of reading done.