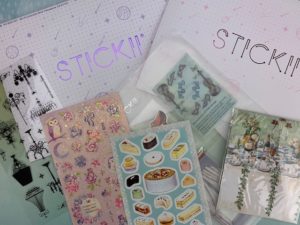 Hello Friends – How are you doing? Last week was such a busy work week. Again, so grateful that I can work from home during this time but this situation is ever changing and we just have to adapt right? For those of you who are still going out to work, thank you for all that you are doing and be safe!
To say we are all experiencing a lot of stress is an understatement right? I try to find ways to focus on other things and that's where our books and hobbies come in. Unfortunately one of my reads, while amazing, is also very hard to read because it's set during war time. I'm still trying to get through it because it is good but I feel like I'm not making a lot of progress. Anyway, I'll tell you about my current reads in another post.
However, this weekend I've been focusing on crafts, in particular stickers! Are you familiar with Stickii Club? They have the cutest stickers and I was so excited when they reached out to me and asked me if I wanted to share a bit about them.
Stickii Club is a sticker subscription company, which creates unique stickers and stationery. So for those who love planning and journaling or simple enjoy stickers you've got to check them out. They also have a Retro selection that features a lot of book related items. If you want to check them out you can use TRYSTICKII for 10% off any pack of your choice.Thank you again to Stickii Club for the stickers and the code!
Stickers totally remind me of when I was a kid and maybe that's why I still love using them. I enjoy using them in my journaling, planner and even letters. How about you, do you still use stickers?
Alright everyone, thank you for hanging out with me and hope you are all doing well.