I was so bummed out yesterday when I found out an Art Journaling class I really wanted to take was completely sold out and to top it off the wait list was too long that they wouldn't even let me add my name. Darn. I guess I'll just have to keep my eyes open for other opportunities.
Anyway, the good thing is that my latest edition of Art Journaling magazine arrived yesterday so at least I have that to keep me inspired. I can't wait to spend time with this issue. There are articles on sketchbooks, finding your visual voice, prompts and even digital art journaling. Fun stuff.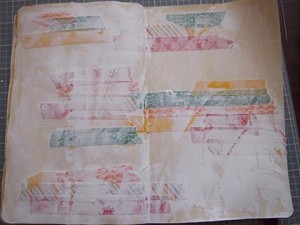 In case you were wondering about my crafty adventures, I started a  two page spread. I'm using a sketchbook moleskine and the first thing I did was place washi tape on the blank pages. I put a layer of  collage pauge to make sure it sticks as washi tape is removable and finally I scraped some gesso on it.
This is just the beginning of a background to give my page some texture. I'm not sure where I'm headed next with this but it probably involves some paint!
Someone asked me if I use my own handmade journals for art journaling and while I would love to I haven't yet simply because I need to make a new journal for myself. I do use a lot of the journals I make for daily note taking and regular journaling but for art journaling I need paper that's thicker and will withstand paints, glues, etc. I do make sketchbooks for my shop but right now I just have some in progress. So for now I had to go with a moleskine.
Anyway, that's the latest in my crafty life. How about you, what have you been creating lately?