I mentioned yesterday that I checked out a few challenges and here are two that I've decided I couldn't pass up. These are actually challenges I joined in last year as well so I was excited to see they were brought back for 2015.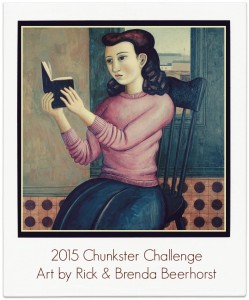 First off is the Chunkster Challenge hosted by Vasilly. Isn't that a great button by the way? This one is easy, you decide how many books you want to read all that is required is that the book (fiction, non-fiction, adult or YA) be 450+ pages.
Last year my goal was to read three chunksters and I did read two so I may not have completed my goal but I was excited to finally reach for those heftier books on my shelves.
So once again, I'm going to shoot for three books for this challenge. I can think of a couple that could be great for this one like, The Goldfinch by Donna Tartt or maybe A Discovery of Witches by Deborah Harkness. Anyway, I'll keep you posted.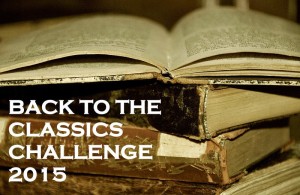 The other challenge I am joining is the Back to the Classics Challenge hosted by Karen. For this challenge you have to complete a minimum of six books that fit it any of the 12 listed categories; such as, a 19th Century classic, a classic by a woman, or a classic in translation.
Last year I tried to read Mansfield Park by Jane Austen but it ended up languishing on my nightstand. So I didn't read a single classic but I'm joining this challenge because I do want to read classics and I hope that this will prompt me to remember to pick up a classic now and then. Will I re-start Mansfield Park? Maybe. I have a lot of classics that I've managed to pick up at B&N when they have their classics on sale so it's not like I don't have books to choose from.
How about you? Have you joined any challenges yet? I'll be back soon with another post on the other challenges I'm joining.