I hope everyone had a great holiday. Mine was nice and quiet. I'll tell you more about the goodies I got another time as I'm still waiting for some to trickle in – kind of nice in to have some stuff to look forward to right? But I had to share one gift that one of my best friends sent me.
As a girl who loves to play with paper this really made my day: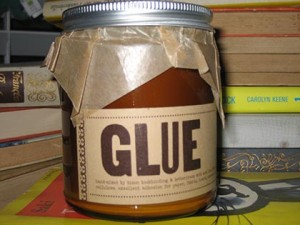 Glue! I can't wait to do some bookbinding and try this out.
Today I went to Half Price Books to take advantage of the 20% off everything sale and I was actually a bit surprised I only walked away with three books but I got some good ones.
First I found a copy of Little Boy Lost by Marghanita Laski. Yes, a Persephone book. It's hard to find these at the regular bookstores so finding one at HPB is like a finding a treasure.
The two other books are mysteries but both I believe have gotten good reviews and are historical so I think I'll enjoy them: A Trace of Smoke by Rebecca Cantrell and The Dark Lantern by Geri Brightwell.
In other news, no I didn't write up any of my end of year posts but that's still my goal to have those ready before ringing in 2011.