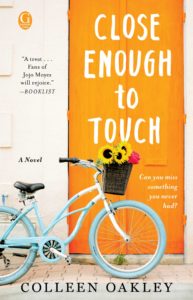 "One time, a boy kissed me and I almost died. I realize that can easily be dismissed as a melodramatic teenager-ism, said in a high-pitched voice bookended by squeals. But I'm not a teenager. And I mean it in the most literal sense."
Close Enough to Touch
By Colleen Oakley
Published: August 2017
Source: Advance review copy
Jubilee Jenkins is allergic to people. Really allergic as in any contact can land her in a medical crisis and if she doesn't receive attention she can die. So she's alienated herself from most people including her mom. Unfortunately when her mother dies Jubilee has to find a way to earn a living and actually go out into the world she's kept at bay for so long.
Luck is on her side when she runs into an acquaintance from high school and she helps Jubilee find a job at the library. While the world is a bit scary and Jubilee is now having to talk to strangers on a regular basis, little by little she finds herself adjusting to her new life. Sure people may stare at her in her gloves, which she uses to avoid human contact, but at least she's making the effort.
Meanwhile someone else making an adjustment is Eric Keegan. He's separated from his wife, his teen daughter won't speak to him and he's now the guardian of a little boy whose parents have died and who happens to want to amass powers like those of Magneto from the X-Men. Still Eric is hopeful that he just needs time to figure out how to get everything on track again but after he meets Jubilee at the library things will never be the same for these sweet characters.
Of course there are some scary moments before Eric finds out he cannot just reach out and touch Jubilee and lots of angst for both Jubilee and Eric as sometimes they just want to go back to the way things were but ultimately the pair proves that we all long for some connection. Whether it be the romantic kind or just to know that you have friends or family rooting for you.
There was one slight issue I had with the novel and that was with the ending but I don't want to spoil this for anyone but if you are looking for a sweet, romantic novel give this one a chance.