I can see my studio table!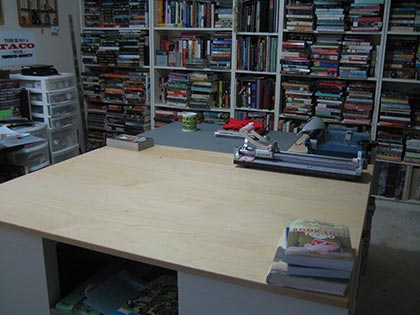 You guys, I have not seen the top of my big table since around October. Yes, there are a couple of books on it but I can see my paper trimmer and my board cutter and I have empty space.  My smaller table is another matter. My weekend was dedicated to organizing my craft studio/library. I still have a ways to go as books are on the floor and double-stacked, and not to mention that my craft supplies are also overflowing but that is a project for another time.
I'm just excited that I have a table again and I can look forward to doing a bit of crafting next weekend. I took a break from crafting at the end of December as I was worn out from the shows and holiday season but I am looking forward to coming up with new books, creating my favorite journals and exploring other crafty projects.
What else did I do this weekend? Read of course. I am half way through Doctor Glas and I also picked up The Girl On the Cliff by Lucinda Riley. It's been months since I've juggled books. Actually I think most of last year I was reading one book at a time but it's kind of fun to start reading this way again. This way I can always have a book just for the mood I'm in.
We also spent a bit of time at the bookstore but I was bummed out that they didn't have the latest Somerset Studio on the magazine rack. Maybe on our next visit I'll find it. I'm already looking forward to that.