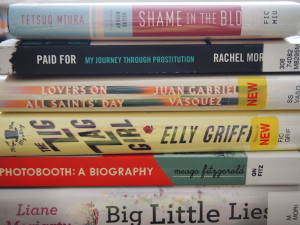 This picture shows just some of the books I currently have check out from the library.
I didn't mean to have so many checked out but usually around the holidays I always decide to check out more books, as if I'm going to somehow miraculously find more time to read!
Anyway, it was hard to resist these titles and I also tried to find a bit of variety so here's what I borrowed:
Shame in the Blood by Tetsuo Miura. Hoping to read this for the Japanese Literature Challenge.
Photobooth by Meags Fitzgerald. The author chronicles the history of the photo booth in this graphic novel.
Paid For: My Journey Through Prostitution by Rachel Moran. Have already started reading this one.
Big Little Lies by Liane Moriarty. Keep hearing great things about this book.
Lovers on All Saints' Day by Juan Gabriel Vásquez. I didn't read a single short story collection last year and hope to remedy that this year.
Against A Brightening Sky by Jamie Lee Moyer – Currently reading.
Murder on St. Nicholas Avenue by Victoria Thompson – Recently finished and review to come.
The Zig Zag Girl by Elly Giffiths. I love her series featuring Ruth Galloway so I'm excited to explore this new series.
Nan-core by Mahokaru Numata. Another option for the Japanese Reading Challenge
Come Hell or Highball by Maia Chance. A new mystery series set during the Roaring Twenties.
As if these weren't already enough I also have a couple of more books on hold. I can't wait to get them because two are books on crafting. I am thinking of a new project to take on so I can't wait to share that with you. In the meantime, I definitely need to add some of my books to my current reads.
So what about you, have any good library books checked out? Have a wonderful weekend everyone and more book talk soon.