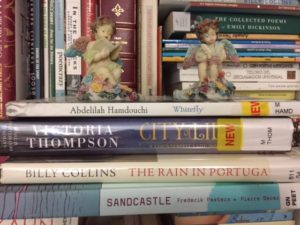 I briefly mentioned a library visit in my post yesterday and thought I'd share with you the books I checked out. I'm trying not to go too crazy given that I have so many shelf-sitters and ARCs but it's hard to pass up books on a library visit isn't it? So here is what I picked up:
Whitefly by Abdelilah Hamdouchi. This is a fast-paced crime thriller set in Morocco. I don't think I've read anything by a Moroccan writer so I was excited to find this book Apparently the writer is an award-winning screenwriter. Looking forward to this one definitely.
City of Lies by Victoria Thompson. I have enjoyed Thompson's Gaslight mystery series and this is the start of a new series featuring a woman on the run. I'm hoping this will be the start of another enjoyable series.
The Rain in Portugal by Billy Collins. Collins is one of my favorite poets so it's time to visit with him again.
Sandcastle by Frederik Peeters and Pierre Oscar Levy. It's a perfect day on an idyllic beach but a dark secret is about to be revealed for a family. It's been a while since I checked out a graphic novel and when I saw this one I liked that it has a strong mystery aspect to it so let's see how it goes.
Have you been to the library this year already? Or planning a visit soon?