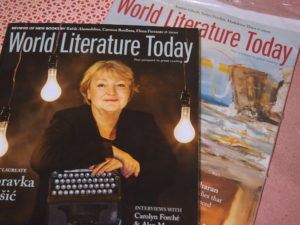 Thanks to the winter storm that came to the eastern part of the U.S. my business trip was cancelled. And, here I thought I was going to have lots of time to read on the plane and start and finish my mystery for my book group meeting next week.
Anyway, last night instead of reading my mystery book I caught up with World Literature Today – the February issue. March is still in its packing slip. I love reading this magazine because I'm finding out about books that I might not easily find on the shelves at B&N or on bestseller lists. I feel like my world really does open up to so many more possibilities.
Here are some of the books that I'm interested in from this edition:
Black Bread by Emili Teixidor. Set in the Catalan countryside, a young boy goes to live with his grandparents in the aftermath of the Spanish Civil war.
How I Became A North Korean by Krys Lee. Three disparate lives converge when they flee their homes, finding themselves in a small Chinese town just across the river from North Korea. They will fight to survive a dangerous place.
About My Mother by Tahar Ben Jelloun. Guided by her fragmented memories, Ben Jelloun reimagines his mother's life in Fez at the end of the war, in the heavily ritualised world of custom and tradition that saw her married, pregnant, and widowed by sixteen.
Don't these sound interesting?
So for those of you in the middle of the storm, I hope you are bundled up and reading a lot of good books.