So I seem to be making a bit of progress on my reading challenges lately. Good thing as I am sure I'll find other challenges to join later – heh. Let me tell you about the books I've read: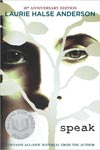 For the Southern Reading Challenge I read Sights Unseen by Kaye Gibbons. This novel deals with a young girl growing up with a manic depressive mother. I really liked this book. It was such a fast read because I couldn't wait to see what her mother would do next and it was heartbreaking to see a family love one of their members and not know what to do for them.
Next up are two books I read for Dewey's Reading Challenge. The first one is Speak by Laurie Halse Andersen which I practically finished in one sitting. What a wonderful young adult novel. If you haven't read it go read it soon. I know I can't wait to read more by her.
The other book I read was Broken For You by Stephanie Kallos. I liked this story until I got towards the end. Then it got a little bit too contrived for me. I believe she has a new book out so hopefully one day I'll check it out and maybe I'll like it better.
For more on all the books, click on the titles for my reviews.
Anyway, I'm in the middle of another book for a reading challenge and I've got a couple of others lined up. I'm so excited as some of these are books I've had on my shelves for a long time and these challenges are prompting me to get to them.