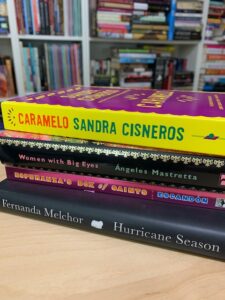 September 15 kicks off the celebration of Hispanic Heritage Month and I just wanted to share a little stack of some of my favorite books:
Caramelo by Sandra Cisneros
Women with Big Eyes by Angeles Mastretta
Esperanza's Box of Saints by Maria Amparo Escandon
Hurricane Season by Fernanda Melchor
If you have already read these and or not quite what you are looking for. Well have I got some links for you.
You can check out the latest from Latin American Literature Today. And, of course find them on Bookshop.org.
Think about supporting some Latin-Owned bookstores. I just wish we could travel so I could go visit some of these in person. Now if you want something else to complement your reading, like perhaps some tv show suggestions and or ways to support Latina-owned businesses, then check out this great compilation from Oprah Magazine.
I hope that you'll join me in celebrating the histories, cultures and contributions of American citizens whose ancestors came from Spain, Mexico, the Caribbean and Central and South America. I haven't decided quite yet which book to read for this but I'll let you know soon.