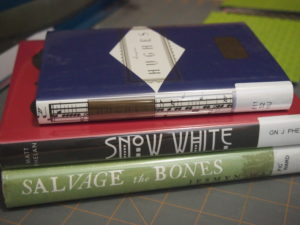 Well hello! I didn't mean to disappear for most of last week but I don't know where the time went. I hope you've all had a great weekend. We finally got back to the bookstore this weekend and it was great to spend an afternoon surrounded by books and coffee.
Anyway, I feel like my February reading has slowed down a lot but that is probably because I'm in the middle of six books and should just finish at least one before adding more to the stacks.
What's crazy is that four out of those six are mysteries. I usually only have one mystery going on so this is a bit odd but they are all different and good so I can't complain. I will need to focus on A Small Death in a Great Glen as that is for my mystery book group meet up and of course it's the one I'm most behind on. How does that always happen?
I also stopped by the library to pick up some holds and I got a Langston Hughes collection, Snow White by Matt Phelan (which Danielle recently mentioned), and Salvage the Bones by Jesmyn Ward.
Oh and did you see the NYRB Winter Sale? I'm so tempted by several of these. If there are some you recommend please let me know.
Alright back to my book group read. Tell me what you've been up to!