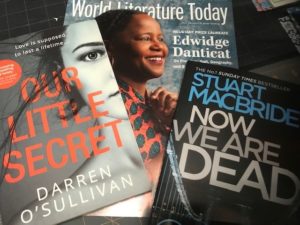 I can't believe it's almost Monday already. I don't get a long holiday weekend but I sure wish I did. The last two weeks at work have been a bit crazy so I feel like I've been so behind on everything. I was able to catch up on a bit of organizing in my studio and even went to the gym this weekend. Woo-hoo!
I wanted to mention a few items that arrived in the mail this week. I received two new books:
Our Little Secret by Darren O'Sullivan. A thriller that starts with a man and a woman at a deserted train station. Both are waiting but before you know it, the woman is stopping a suicide. Sounds intense already doesn't it?
Now We Are Dead by Stuart MacBride – This one features DCI Roberta Steel who's recently been demoted. Jack Wallace is the man she needs to bring back to justice before he attacks more women.
Then there was also the latest World Literature Today. I love this magazine but I still have a few editions from last year that I need to read and every time I read this I end up adding countless books to my TBR list. Granted a good thing but just makes me wish for more free time to read.
I also went to the library this weekend and I'll tell you about what I found there in my next post. What I didn't find was a Mary Oliver poetry book. I looked at our online catalog and noticed that most editions were checked out. What else? Oh and I still need to tell you about my mystery book group meeting last week which was a lot of fun as the author stopped by to meet with our group.
Anyway, I hope you all have a great week ahead and more book talk soon!