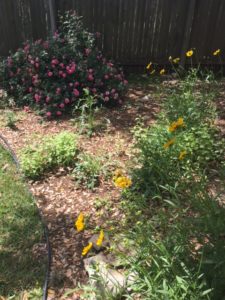 Hello everyone! I hope you've had a wonderful weekend. It was a quiet one around here and nothing wrong with that. I got a chance to pick up some pretty papers at JoAnns. I know, I don't need to be buying more paper but I can't resist sometimes. I did quite a bit of reading for my HR coursework and I also managed to finish a book. My fun reading seems to be going at a snail's pace recently but I've got some good books on the nightstand so I'm happy about that.
We were going to go to the annual Spring plant flower sale at the Wildflower Center but a lot of stuff is coming back from last year's planting efforts so we decided to wait and see how things look later in the Fall and maybe we'll catch the sale that happens at that time.
You can see lots of color in our backyard. The mini roses towards the back (we've had those for several years) are blooming and I'm loving the yellow Coreopsis flowers. Unfortunately I think our Mexican Butterfly Weed didn't make it through the cold temps we had earlier this year. Bummer. On the other side of the yard is our succulents area and that is looking great too.
On the television front, we really want to catch up with the newest season of Bosch but we are waiting until we can finish Fortitude or otherwise we'll just do a binge watch of Bosch and forget about anything else. I am also interested in The Terror based on the Dan Simmons novel (which I have not read) but being that it's also an arctic setting then I think we'll save that for the summer when I know we'll be wishing we were in the arctic! Ha.
That's about it around here lately. I hope you have a great start to the week and more book talk soon!