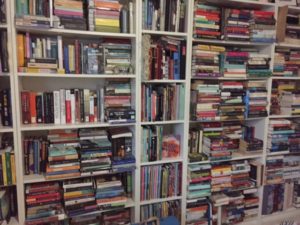 The days are flying by and I've been busy at work, getting the house ready for my family and getting ready for our vacation. So I'm sorry if I haven't been very good about answering comments and visiting lately.
I'm really looking forward to some time off. We'll be going to Germany again to visit my husband's family and we are also going to visit some friends in Sweden! I can't wait. We haven't been to Sweden before but I almost feel like I know it as I've read so many Swedish thrillers. I can't wait to walk in the footsteps of so many great detectives.
I'm going to try and catch up on a few items here on the blog. I still have one book I wanted to tell you about and I'll try to share some of the books I have on my Kindle. I have been busy borrowing from the library, buying some Daily Deals and requesting from NetGalley. You'd think I was only going to read. Haha… Granted, I do tend to read a lot more on vacation as I put all those plane and train rides to good use.
How about you guys? Do some of you still have vacations to look forward to this summer? Or maybe you are doing some armchair, traveling which I'm also a fan of. Let me know what places, real or imaginary, you are visiting!