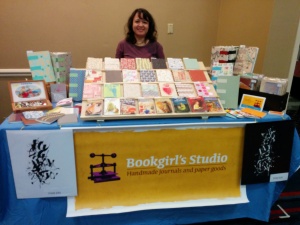 Hey friends how are you guys doing? Can you believe it's already December? I got caught up last month with tons of bookbinding, hanging out with my best friend when she was in town and just general life madness.
Here's me and my booth at the craft show I did last weekend. I got to meet lots of great vendors and it was so much fun talking bookbinding with a couple of other journal makers. So tiring but fun.
I won't be doing any more shows this year but hopefully early next year I'll do a couple. For now, I do have to upload some new journals to my Etsy shop.
On the reading front it's been so slow. Can you believe I'm still reading the book I mentioned in my previous post? It's an entertaining mystery but my free time has felt very fleeting in the last few weeks. I don't have big read plans for this month but I am starting to see some year-end lists and those are always fun. I feel very out of the loop on what's new in the book world so I can't wait to add lots of books to my reading list.
I do have to tell you about some book buys, some new magazines discovered and other bookish stuff but I'll save that for another post. I really will try to get back to a more regular blog posting schedule but I'm scared to promise anything but I can tell you I've missed my book blog world!