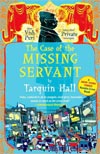 "Puri, a self-confessed master of disguise, had not changed into anything unusual for today's operation, though seeing him for the first time, you might have been forgiven for thinking this was not the case."
The Case of the Missing Servant
By Tarquin Hall
Meet Vish Puri, a 51-year-old detective who is the proud owner India's Most Private Investigators, Ltd. He has a small group of employees who help him conduct investigations which range from discreet background checks of prospective grooms to in-depth analysis of more sinister events.
This particular time he is called in to investigate the disappearance of Mary. The maid worked for a well known attorney who is thought to have murdered the girl. As Puri starts to dig into the case he is shot at in his own home. This must mean he is getting close.
His brush with violence though will put a kink into his investigations because his mummy decides to come visit and make sure her son is safe. So not only is Puri trying to keep his mother from making her own inquiries, his wife is also reminding him to stay off the fatty and fried foods and another case of an investigation of a prospective groom lands on his desk.
Through all of the chaos Puri is able to juggle his cases and serve his clients well. As the reader you'll find yourself enjoying the ride into the parts of vivid landscape that make up modern India. Along the way, we learn that Puri is precise about his use of detection skills and documenting the outcomes and takes great pride in his service.
He may often be boastful about his accomplishments, he often makes references to previous cases solved, and he isn't above spying on his domestic employees, after all gossip is often useful, but despite these peculiarities he is a likable character. I enjoyed his observations on Delhi and the people, and when I closed the last page I felt as if I'd just arrived from a trip overseas. I can't wait to go back. A truly fun and engaging read.
*******
I received my book from the publisher and actually ended up with two copies so I'd love to give the new copy to a reader who thinks they would enjoy this. Just leave me your name and because I love mysteries, let me know who is one of your favorite sleuths. I'll announce the giveaway Friday, October 8th. Open to worlwide readers.