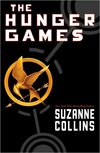 I hope you've all had a great weekend. I've had a good one but have been a bit busy spending time with my mom and when I wasn't spending time with her, I've been trying to sneak in pages of The Hunger Games by Suzanne Collins.
You guys weren't kidding. This book is wonderful!
So I guess I can't complain about not finding a good book now. Ha. I'm going to make this a super quick post because I have to get used to my morning routine now that I'm back at work but I still want to read more of my book. I'm a little bit more than half way through it and can't wait to see what happens next.
So are you also reading a book you are finding hard to put down? Tell me, I may want to check that out next.