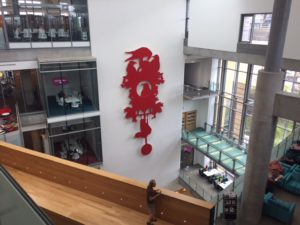 I had a great time catching up with one of my best friends who was in town today. She only had a bit of free time but we made the most of it. We decided on brunch at the library. Our new public library has a wonderful cafe – the Cookbook Cafe and it's finally open so we wanted to check it out.
Over a delicious meal (I had the breakfast grilled cheese) and a cappuccino, we caught up on the latest is on our lives and then we wandered around the floors of the library.
I have got to go over there more often. The downtown library is not too far from my home but I have a smaller branch closer to me that I visit. I may have to make it a point to go to our main library every couple of months to check it out. Not only that but their gift shop is now open too.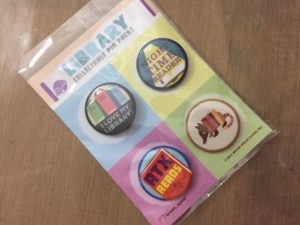 I couldn't resist picking up a set of pin back buttons for my book bags. Aren't these cute? I especially like the Night Time Reader one as I do love staying up late reading. You can check out some of the artist's other work on his website.
There were a ton of other cute bookish gift items and some even from local artists. I may need to reach out to the gift shop and see if they want to carry some of my journals! That would be so freaking cool if they would. A girl can dream right?
Anyway, that is the scoop for the weekend. I hope you all had some fun or at least a relaxing one. Now I better get to sleep because Monday morning will get here soon enough right. Have a great start of the week!