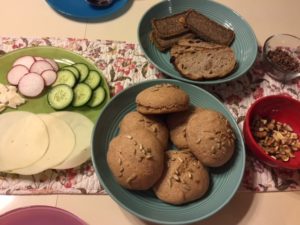 Woke up this morning to my husband busy making us breakfast. Normally he makes muesli or oatmeal but today I felt like we were visiting Germany. We had spreads, cheeses, yogurt, nuts and breads. The highlight were the Brötchen my husband made! The only thing we forgot was the Nutella. Maybe next time.
Anyway after that breakfast who needed lunch so we went to Barnes & Noble to enjoy a bit of a wander.
I think our B&N has stopped carrying Flow magazine which I hope is not the case. I love that magazine and next time I go I'll probably have to ask. I was happy to see though Rubber Stamp Madness. I almost thought that magazine was out of circulation. Turns out there is a Rubber Stamp show in New Braunfels this Fall and that's not too far away from me so I need to mark my calendar. It is so fun to go to those shows and see all the new crafty things on the market.
So a very nice weekend and now to prepare for another busy week. Hope you had a wonderful weekend!