Last weekend I went to the library to pick up some holds because after reading all of the end of year lists, I had quite a few books I wanted to look into! Of course, not only do I pick up my holds but I did a bit of browsing. Here's what I came home with:
I have a few other holds so hopefully those won't all come in at once.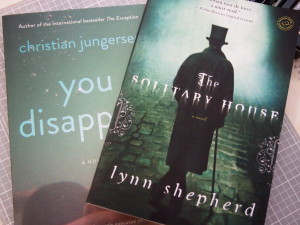 As far as books bought go I had some coupons for B&N right before the holidays and I couldn't pass up 40% off savings so I bought these two.
You Disappear by Christian Jungersen. According to the blurb on the cover this is a "provocative.. tensely executed thriller." And, I also bought The Solitary House by Lynn Shepherd. A mystery set in mid-century Victorian London. The setting, the cover, I just couldn't pass this up. Has anyone read this series? I believe there are a couple of others, this one being the first.
Okay, now I have to get busy and read these books! What about you, what new books did you get recently?