As I mentioned yesterday we visited Borders again to see what bargains we could find and I walked out with an armful of books. What a great feeling that is isn't it?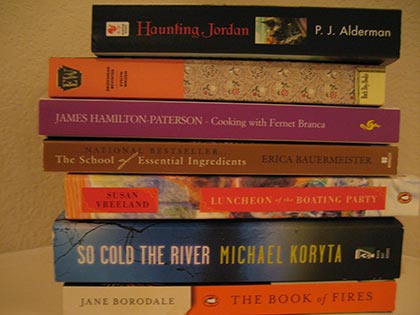 Sorry for the fuzzy picture but as you can see I got a bit of a variety of books.
Have you read any of these? I know The School Of Essential Ingredients has been a favorite in the book blogosphere. I am a big fan of Susan Vreeland so I was excited to get this one to add to my Vreeland collection. And, really, they all sound good.
So I still don't know when Borders is closing but I'll probably have to have a pit stop at the end of the week to see what's the status.