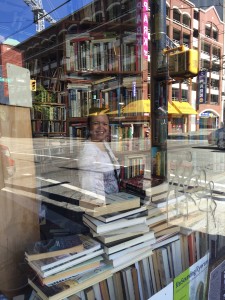 As we were doing our vacation planning I looked up bookstores to check out and didn't think I would end up visiting so many of them but I did and I loved every minute of it. A couple were random finds found as we were walking around, but some were a must-see on my list.
In Vancouver I went to an Indigo Books which is similar to a Barnes & Noble. Big, box store but this one had a lot of home décor as well. It was bright, neat and big. While browsing along Main and Commercial Drive, which also had all sorts of fun shops, I found Pulpfiction Books. This store has used books, new books and tons of graphic novels. My favorite find though was MacLeod's Books. I could easily have spent all day in there as books were piled high all over the place. One of the things I really appreciated about MacLeod's too is that they have a section just for Canadian fiction. As I was hoping to discover some new to me Canadian authors this was perfect.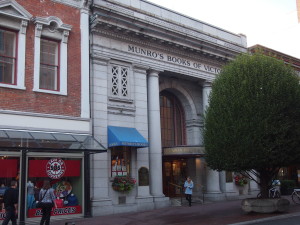 In Victoria I also happened to visit two lovely bookstores. We went for a walk along the beach and ended up near a neighborhood with lots of coffee shops and other stores and the lovely Fairfield Book Shop. This is a small but neat and well stocked used bookstore. It also had a section for Canadian authors which I enjoyed. This is the kind of bookshop you wish you could walk to from your home every day. And, of course I had to go to Munro's Books which has a very elegant and impressive entrance. I think it is often named in those articles that talk about most beautiful bookstores. This was strictly new books and of course had a wonderful, large and current selection.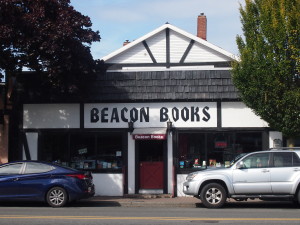 We took a little day trip to Sidney by the Sea. A one hour bus ride ($2.75) from Victoria to Sidney and we were right on Beacon Street which is where you'll find the six book shops that make up this booktown. While my husband was walking around taking pictures I went to Tanner's Books, The Haunted Bookshop and Beacon Books. Tanner's has new books, calendars, gifts, magazines. Overall a great selection. The Haunted Bookshop was fascinating because it is an antiquarian bookstore so it had some incredible finds like a miniature book display but also out of print and recent used books. My last stop though was at Beacon Books and that is probably the place I spent the most time in because it was huge. Sometimes a bit cramped but isn't that the best in a used bookstore. You feel like you are on a hunt for a special treasure.
Oh and the only reason I didn't go to all six bookshops is because the others were more specialized and not necessarily what I was looking for. Of course before we left we had to stop at Alexander's Coffee across the street from Beacon Books and I had a yummy Mexican Mocha.
Sidney is not quite Hay-on-Wye but it was delightful. Don't you want to pack up your bags now? Just talking about all of these shops make me want to go back. This time with bigger suitcases! So yes, there were some purchases involved but I'll save that for my next post.