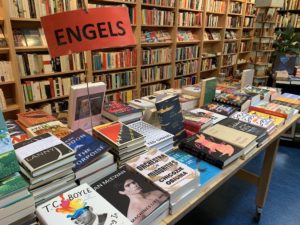 When I travel I love to visit bookstores or libraries in the new cities. Even if I don't read the language it's still fun to visit their bookstores to see the book covers of popular books, the gift section and if I'm lucky, there's an English book section to explore.
My recent trip was no different. I already had in mind one bookstore I wanted to revisit but had a list of a few others I wanted to check out. We had a 1 hour layover in Atlanta on our way to Belgium and as we're walking through the airport I saw that they had a book art exhibit! How cool right? I knew my trip was already starting on the right foot.
Once in Brussels we saw a lot of comic book shops and while we didn't go in those we did find 19 of the stops along the Comic Book Route. What a wonderful idea to showcase the artists and writers by putting the art where everyone can appreciate it.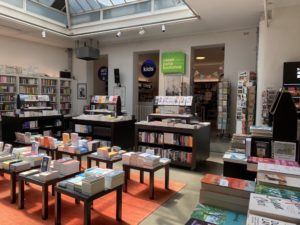 One bookstore I did visit was Passa Porta, the International House of Literature. They had a fantastic English language section so I was able to jot down quite a few titles.
In Antwerp I visited Boekhandel Stad Leest. While they didn't have a lot of English fiction books, they did have some gorgeous coffee table books and other non-fiction titles that were interesting. They also carried some very nice stationery items and lots of other gift items. They actually have a separate stationery shop that was really cute too.
A majority of our trip we spent in Rotterdam, which we'd been to before, so I knew I wanted to revisit Donner Boekhandel. They were undergoing some remodeling but still this book has such a large section of English books. You can find fiction, crime, sci-fi and other genres. I saw some beautiful editions of Jane Eyre, Pride & Prejudice and other classics. The Book Depository has these editions available.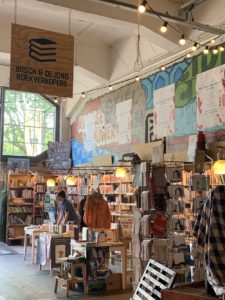 One bookstore I really liked but unfortunately didn't get a chance to spend as much time in as they were closing up, was Bosch & de Jong, which is located inside the Fenix Food Factory. You sort of feel like you are shopping at a market stall and not only can you look for books but afterwards I highly recommend you get an ice cream stroopwafle. Yum.
When we did a day trip to Dordrecht, I didn't think we'd see any bookstores but I found a fabulous second hand shop. The owner even offered me some tea while I browsed. If I had been looking for some vintage children's books this would have been the place. I didn't buy anything but wish I had. As we walked around I also happened upon a Little Free Library! Isn't that the best?
Another bookstore I visit in Rotterdam was Boekhandle Van Gennep. That was a lovely shop with a small selection of English books but a nice variety. I did make a purchase here!
In Haarlem I visited H. de Vries Boekhandel. This bookshop was so pretty with its hardwood floors, exposed beams and chandeliers. I also found a used bookshop that also had some great vintage books but my suitcase space was quite limited and so no purchases.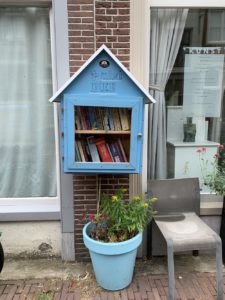 My final book stop on this trip was the American Book Center in Amsterdam. I had been to it before as well as the location in The Hague a couple of years ago. This is like going to your favorite indie book shop. You can find a great variety in any genre and even a large magazine section. I also liked that they had a bookshelf for Dutch authors.
Sorry if this ended up being kind of a long post but if you ever travel to these places I can highly recommend all of these shops.
So tell me, do you also enjoy visiting bookshops and/or libraries when you travel?