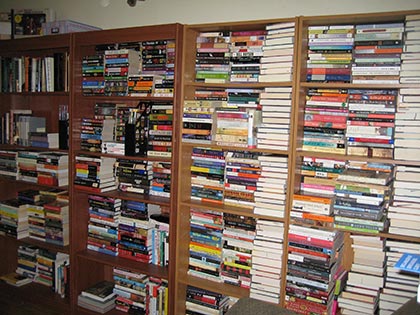 Ahh, I'm feeling so much better now that my books have been set free from their boxes and are once again on the shelves. I'm so sorry I've been out of touch with everyone but I've been busy moving. We had a few snafus but for the most part everything went well. There is still much to be done but that will wait for later.
For now, I love that I'm only a few minutes from a Half Price Bookstore and Book People. My bookgirl radar was definitely on when we found our apartment. I can't wait to fully discover Austin again. It's been a long time since I've lived there but I'm excited about going back to favorites and getting reacquainted with the city.
Now I've got to pack a suitcase because tomorrow we are off to Germany. Actually, the clothes I can throw in quickly, it's deciding on which books to take which takes some time.
This time around I'm hoping to do a bit of blogging while I'm away and of course blog visiting. I've missed you guys. So hope everyone is doing great and more book talk soon!