My current reads are taking me to various parts of Europe and given that vacation is still many months away for us these books are at least letting me do a bit of arm chair traveling.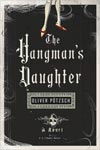 I am about half way through The Hangman's Daughter by Oliver Pötzsch. I'm not a big fan of medeival settings but this book is really working for me. Unfortunately I already know how it ends as we discussed it at my reading group last week.
I hate going to book group without finishing a book and rarely do that but I had to attend as I was meeting a friend and so I heard all about the ending. Still I plan to finish it because I want to see exactly how the mystery is solved.

My other book takes me to a more modern setting and to France. I wish Someone Were Waiting For Me by Anna Gavalda is a short story collection. I actually thought this was a novel and am glad I didn't realize that until I had begun the book because otherwise I may have put it back on the shelf for now.
What ties these stories together is a deep sense of longing each narrator has for love and connection. There is a great sense of people feeling alone and lonely and wanting things to be different. I've read one of her novels before and somehow I think I already like this book better. It's like the characters feelings are more urgent and exposed so I like that.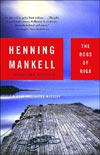 Finally, moving further up north to a colder climate I'm reading The Dogs of Riga by Henning Mankell. This is the second book in the popular Swedish series of Detective Kurt Wallander. I read the first book many years ago and am not sure why I didn't follow up sooner.
"Shortly after 2 a.m. Wallander woke with terrible chest pains. He was convinced that he was about to die. The constant stress and strain of police work was having its effect. He was paying the price."
Ah but Detective Wallander won't have long to think about his health because two dead bodies tied up on a raft have floated up along the coast. The two were tortured and murdered and now Wallander must find out who and why.
How about you, where are your books taking you to lately?