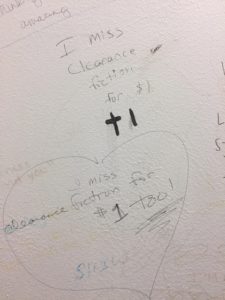 I spent the morning with my husband at FrankenBike (a swap meet for cyclists!) and while I did want to hang out with him I also had an ulterior motive for going with him. You see, this time FrankenBike was going to be held at a bike shop in the same area as a Half Price Books and Bookwoman!
Bookwoman is a fantastic local bookstore. It's not very big but I could spend hours there looking through the stacks of recommended fiction, zines, gift items, it's truly a special place. I really should go visit more often. They have Open Mic nights, a book group and host a lot of other monthly events.
Of course I had to do a bit of supporting and bought one book, Eileen by Ottesa Moshfegh. From the description: Creepy, mesmerizing, and sublimely funny, in the tradition of Shirley Jackson and early Vladimir Nabokov, this powerful debut novel enthralls and shocks, and introduces one of the most original new voices in contemporary literature. Sounds good doesn't it?
I made my way over to Half Price Books but unfortunately the books I wanted to find they didn't have. I could have spent more time looking around but I wanted to get back to my husband. Before I left Half Price Books though I visited the ladies room and had to giggle when I saw those two writings on the bathroom stall. I miss those cheap clearance books too!
Anyway, hope you've all had a wonderful weekend!