I'm back! I hope you all have been enjoying the holiday season so far. I had a wonderful Christmas with my family in Monterrey, Mexico. It was a bit of an unexpected trip so the last couple of days I was rushing around to get everything ready but I'm so glad I went. I got to see a lot of my family, we played Loteria, ate a lot of tamales and just enjoyed being together.
I've also been quite spoiled this holiday. For example, just look at the loot I got from my Secret Santa.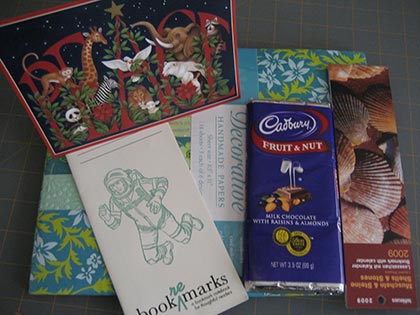 A pretty bookmark with calendar, a bookmark notebook, chocolate and gorgeous handmade paper, which you know I will most definitely use. I feel bad though because I'm not sure who my Secret Santa is – Kim, I don't have your blog address but if you are reading this, many, many thanks!
Other bookish goodies from family and friends include:
And, then my dear husband totally surprised me with this book bounty. He went back through my posts and found one where I gush about wanting these books. Isn't he great? Now my artsy/crafty library is even more complete, and I have a button to wear to proclaim my book madness. Heh.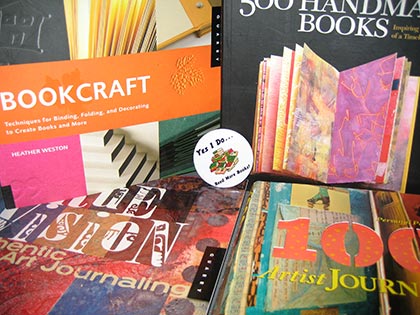 Anyway, thank you to everyone who stopped by and left Christmas wishes. I am looking forward to doing some serious blog hopping.