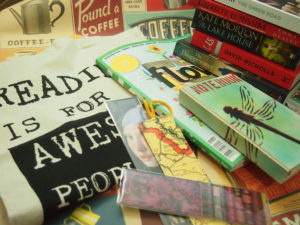 I remember when I was younger and traveled I would always buy kitschy souvenirs but over the years what I buy on vacation has certainly changed. Don't get me wrong, I still may buy some kitschy little thing but for the most part I want my "souvenirs" to remind me of the memories I've made while on travel. So from our latest adventure I did buy some books but I also bought some other bookish things that I couldn't pass up when I saw them.
I found a clever book tote "Reading Is For Awesome People" in Utrecht. Unfortunately I can't remember the name of the bookshop where I got it. I have quite a few book totes but I do use them whether it's when I go to the library or book group. So I know I'll get a lot of use out of this one.
Three bookmarks to add bookmarks to my collection. The Girl with a Pearl Earring I bought at the Mauritshuis museum shop, the map bookmark, made from a recycled map, I got in Braunschweig at Graff Bookstore and the other I got from Die Buch Bar in Quedlinburg.
A Journal from DeafMessenger which I found at the American Book Center in Utrecht. I can't pass up great journals and this one is so cool. Check out DeafMessenger to see more of their unique journals. Speaking of the American Book Center, I visited the location in Amsterdam many years ago and at first glance this one seemed tiny but there was actually a lot of space inside and a great selection of books.
Flow Magazine in German. I picked this one up at Bucher Nolte in Gifhorn. I'm looking at a lot of pictures more than anything but maybe this will be a reminder to practice more German.
I also got this great coffee paper from Die Buch Bar. I'll have to use this either for some art journaling and/or bookbinding.
I try to not buy a lot of books because these can certainly get heavy but we had some gift cards and I just couldn't resist some of these so here are my book buys:
The Green Road by Anne Enright
Elizabeth Is Missing by Emma Healy
The Lake House by Kate Morton
Us by David Nicholls
The Disappearance by Annabel Kantaria
So all of that along with lots of chocolate made for a very heavy suitcase. Now to find a spot for all of my goodies because my studio/library is a bit of a mess.