I just snagged my first Treasury on Etsy. What's a treasury? A collection of handpicked items by Etsy members. Of course you hope that one of these treasuries will be picked for the front page. Anyway, you have to check out my treasury because it's especially made for bookworms. Hee.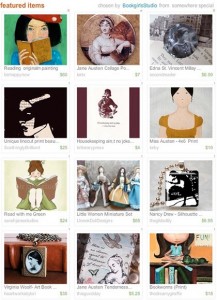 And, as it is that time of the year and people are getting presents together, maybe you still need to get your present ready for the Holiday Swap, check out the Well-Dressed Reader. Some seriously cute necklaces.
While on the subject of bookish gifts, look at this throw and pillow? Tomorrow it's supposed to get quite chilly here. Those, a good book and a cup of hot chocolate sound so good.
Anyway, I didn't mean to talk about shopping but just got a bit carried away there. What I did want to tell you is that Dorothy W. has put together a wonderful list of books to choose from for the next Slaves of Golconda reading selection. We won't be discussing the book until end of January so see, you've got plenty of time.