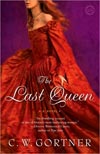 I'm very happy to be part of The Last Queen Virtual Book Tour. I know I've told you before that when I was a kid I was fascinated by the story of Juana La Loca but thanks to the rich novel by C.W. Gortner, The Last Queen, I was finally able to get a bit more history, see the story in a different perspective and just be transported to another time. So I hope you'll enjoy reading a bit more about the book.
"I was thirteen years old when my parents conquered Granada. It was 1492, the year of miracles, when three hundred years of Moorish supremacy fell to the might of our armies, and the fractured kingdoms of Spain were united at last."
And, so the young Juana, daughter of Queen Isabella of Spain, begins recounting her tale. The story unfolds with the young woman witnessing her parents triumph over the Moors and through her sensitive eyes the reader sees the beauty of Granada and how Juana starts to understand about the love for a country and ideals.
As she grows up she learns about the duty that awaits her and her siblings. Their marriages are meant as business arrangements to strengthen Spain and its power above other European nations and Juana's destiny is bound to Philip the Handsome of Flanders so at sixteen she is sent to him. Philip was heir to the Habsburg Empire and Juana's parents hoped that this alliance would once and for all give Spain a greater advantage over France.
Although Juana at first resisted going to Flanders when she meets Philip both will find themselves filled with passion and longing for the other. It seems that this will actually be a happy marriage but Juana has many enemies, one being Philip's most trusted advisor. Just as Juana works to try and get Philip to support Spain, Philip is increasingly finding himself leaning toward the French.
There are scandals, betrayals and a battle for power across countries and families. The novel brings to life the story of an often misunderstood queen. What it also made me realize was just how much power was above all else as often Juana went years without seeing her children. No matter a person's wishes but if they were born into royalty their duty was to the throne.
I throughly enjoyed this novel and although I knew the "ending" in a way as I'd heard some about Juana of Castile I was still racing to read the end I was so caught up in the story. I hope you'll keep this book on your radar for when you are in the mood for a fascinating historical tale.
You can also visit C.W. Gortner's website to find out more about the book or read his blog and please stop by at the other tour stops for author interviews, guests posts and more reviews.
Now, because I couldn't resist, I'll leave you with this photo I took when I visited Granada in 1996. It was my first trip to Europe. One of my friends and I traveled through Barcelona, Madrid, Sevilla, Cordoba and Granada. I have lots of great memories and thanks to this book I just had to pull out my scrapbook and revisit all over again.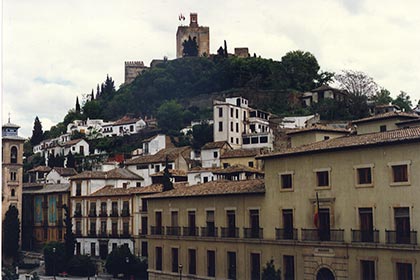 "Seek not paradise! It is here – it is here!" ~Arab poet on Granada