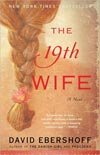 I've just turned the last page of The 19th Wife by David Ebershoff and have to tell you that you must add this book to your radar if you haven't already. I first heard about the book at the Texas Book Festival last Fall when heard the author speak about the book. Since then I've been meaning to read it and am so glad I was able to participate in this virtual book tour. Let me tell you a bit about the book first and then at the end of the post find out how to win a copy.
"I promise my Dear Reader I shall recount my story truthfully, even when it distresses me to do so. In these pages you will come to know my mother, who by religious duty welcomed four wives into her husband's bed. You will encounter the old woman forced to share her husband with a girl one-fifth her age. And you shall meet the gentleman with so many wives that when one approaches him on the street, he answers, "Madame, do I know you?"
Blending fact and fiction a tale of polygamy, religion and history opens before the reader. Ann Eliza Young was the 19th wife of Brigham Young and she was a woman who defied everything she'd known to gain a divorce from her prophet husband and managed to be a moving force of women's rights and spoke against the practice of multiple wives. To illuminate what it means to be a multiple wife, the author introduces the fictional tale of another 19th wife who is assumed to have murdered her husband.
Set in present-day Utah, Jordan Scott a young man who was thrown out of his church and community, is one day surfing the net when he finds a picture of his mom and the headline, "Wife #19 Kills Husband." Despite having been excommunicated and tossed out on the side of a highway with just $17 and some sacred underwear, Jordan still feels compelled to see his mom so he does what he didn't expect to ever do again, he goes back to the compound to find the truth.
Jordan's mom, BeckyLynn, insists that she didn't kill her husband and asks her son to help her. For Jordan this means spending more time at the compound and trying to learn about his father's wives. Jordan's feelings about all of this are so mixed as he's still upset about what religion did to him and continues to do to others. It's not just the wives but also the children who suffer as boys are sometimes cast out for minor transgressions all in the name of religion.
Along the way of Jordan's investigation we meet other characters who are also victims of this religious practice and one in particular, Joey a young boy, is charming with his tough-guy persona which hides the innocence that was lost when he was also thrown out of the group.
What I found so interesting about this book is that I expected to of course feel bad for the women but what this novel shows is that it could also be a difficult time for a husband who maybe didn't want another wife, or a young boy who couldn't understand why they were thrown out of the community. I thought the historical details that were interspersed with the fictional narrative were absorbing and I also liked the murder mystery aspect of the fictional part as Jordan works to save his mom.
I hope you will now be tempted to read The 19th Wife. You can find out more about the author and the book on his website and of course don't forget to stop at the other TLC Tour Stops.
As I said, there's a giveaway. It's easy, if you'd like your own copy then leave me a comment and I'll pick a winner over the weekend. Good luck!