I almost didn't make it out to the Half Price Books Spine sale this weekend because we were caught up in gardening adventures. We've added more new plants, cleared out some dead stuff and finished setting up rain barrels. Now we'll wait for the rain.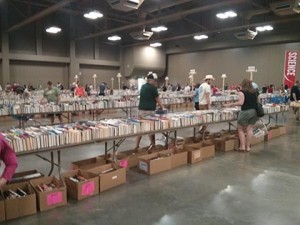 So about the book sale. I saw a lot of books I've already read, books that I have waiting on my shelves and lots of bestsellers which are not necessarily my go-to books but of course I found books I had to have.
Isn't it funny when you go to a book sale and see a book you love and you just want to tell the person next to you to add it to their cart.
I didn't buy a lot of books but I think I found some great stuff:
Anyway, I'm looking forward to these. I hadn't been to a big book sale in quite a while so that was fun. Now to go find some space on the shelves for these.