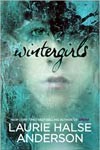 Wintergirls
By Laurie Halse Anderson
"I was a good girl because I didn't poke holes in my skin (scars noted) or write depressing poetry (journals checked while we were in session) and I ate and ate. They stuffed me like a pink little piggy ready for market. They killed me with mushy apples and pasta worms and little cakes that marched out of the oven and lay down to be frosted. I bit, chewed, swallowed day after day and lied, lied, lied. (Who wants to recover? It took me years to get that tiny. I wasn't sick; I was strong.) But staying strong would keep me locked up. The only way out was to shove in food until I waddled."
Wintergirls is a moving story of two young girls who battle eating disorders. Lia and Cassie have been best friends since Cassie moved into the neighborhood when they were little girls. They shared toys and stories as they grew up but their ultimate test of friendship is when they start sharing the will to be thin, thinner, the thinnest.
As the novel opens Lia finds out that Cassie's body was discovered at a motel room. She was alone. Lia's parents are nervous that Lia will fall back into destructive habits but what they don't know is that Lia never really got over her desire to be the thinnest. Now, on top of that she feels such a strong sense of guilt over not having picked up Cassie's last phone calls to her. She called her 33 times on the day she died.
We follow Lia as she covers up her lack of eating, the obsessive calorie counting, and the lies she tells her family and teachers. You feel that desperation that overtakes her to reach her idea of the perfect number on the scale until the shocking realization that there is no perfect number save, zero. Finally, Lia's emotional state is furthered pushed to the limit when she starts to see Cassie everywhere she goes.
The story is intense and gripping as the reader wonders what will be Lia's ultimate fate and amidst some of the more difficult to read descriptions of what a body goes through when it is malnourished, there is a beautiful poetic quality to the writing. Take this paragraph for instance that just begs to be read out loud:
" 'Dead girl walking,' the boys say in the halls. 'Tell us your secret,' the girls whisper, one toilet to another. I am that girl. I am that space between my thighs, daylight shining through. I am the library aide who hides in Fantasy. I am the circus freak encased in beeswax. I am the bones they want, wired on a porcelain frame. When I get close, they step back. The cameras in their eyeholes record the zit on my chin, the rain in my eyes, the blue water under my skin. They pick up every sound on their collar microphones. They want to pull me inside of them, but they're afraid. I am contagious."
Wintergirls is not an easy read because this book makes you realize that there is no why or why not about an eating disorder. There is a lot of pain for those who suffer and for the family and friends who surround them. But in talking openly about the subject I think that's already a step in the right direction. Just as Speak by the same author this is another fantastic read.