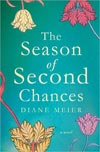 "Change rarely happens in doses large enough to chock you. Every day you swallow a little more and expect a little less. So I don't remember the day I stopped hoping I would become that self-assured woman who knew where the important people lunched."
I really like novels about second chances. There is something so hopeful about them. A chance for a do-over and to right wrongs, or at least be more attuned to making better choices. An opportunity to go for something new. That certainly is the case for professor Joy Harkness.
In Diane Meier's debut novel, The Season of Second Chances, Joy had everything in New York. She had tenure, an apartment with a view, and lived where she had always hoped she would but when she is asked if she wants to teach at Amherst College she says yes and embarks on a new life in a city she doesn't know and where she has to start all over.
First thing she has to do is find a place to live and although her realtor shows her a lot of places, Joy is attracted to a rundown Victorian house and before she can even doubt herself she buys it. Her home renovation project will finally put Joy in the place of making her house into a home as she chooses fabrics, paints and all the details with care. For this she also has the help of Teddy, a fabulous handyman who is very quiet but surprisingly becomes a big part of Joy's life.
Her school life is something she looks forward to as she will finally have a say in changing the methods of how students are taught but she what she didn't expect was to actually become friends with other professors. Joy has pretty much kept to herself but in this smaller community she is pulled into relationships and no one is taking no for an answer. Instead Joy has to learn to ask for help, to give assistance and let others into her life.
I liked how Joy really struggles with these changes. For someone who has pretty much kept to herself throughout life, all of a sudden being part of a larger group must be difficult and change won't happen overnight but she tries and ends up surprising herself.
Another aspect of this novel that I really enjoyed was the setting. Maybe I miss college or just have very fond memories but university settings are so appealing to me and in this book I could just see myself being one of Joy's students. It was fun to read about Joy's adventures, her missteps and successes and so I hope you'll give this novel a chance.