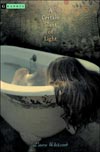 A Certain Slant of Light by Laura Whitcomb
"Someone was looking at me, a disturbing sensation if you're dead."
Helen has been dead for 130 years but her essence is still on this earth attaching itself to a "host" so as to not fall into nothingness. But she isn't the evil specters one would associate with hauntings, no Helen is part of the "Light," those who are still on earth but which the living can't see and for some reason can't move on. During her years as Light she's had several hosts and now she's attached herself to Mr. Brown, a high school English teacher.
It is while Mr. Brown is teaching class that Helen feels someone looking at her but how is it possible for that young student to notice her? No one has ever noticed her. What Helen will come to find out is that Billy is not really the one who sees her but James, yes, another one who is also part of the "Light."
James entered Billy's body after Billy suffered a nearly-fatal overdose. When he sees Helen there is an immediate connection and even though she's scared and doesn't understand at first, the two struggle to find a way to be together.
It is then that James hits on the idea that Helen should also enter someone else's body. Helen will find that it's not easy to inhabit someone else's body. She'll struggle to learn who Jenny really is and why she wanted to leave the world of living in the first place.
I found this YA novel so engaging not just because of the romance between James and Helen, but also for its portrayal of the two teens who were hurting emotionally and actually preferred not to be here. In addition to the ghost aspect of the story, there is also an air of mystery as James and Helen tell us more about who they were and why they haven't moved on. An intriguing premise with some interesting approaches to the ghost story.
How about you? Read a good ghost story lately? Oh, and this is one down for my R.I.P. Challenge!