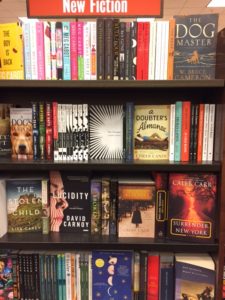 We had a great discussion last night of A Small Death In a Great Glen by A.D. Scott. Being that the main characters work in a small town newspaper one of the issues we discussed was trust and truth and needless to say with current events the way they are right now our discussion was a lively one. We may have had a couple of differences of opinion but the most important thing was that we actually talked about those differences.
I really enjoyed the book and will definitely look for more in the series. In the next couple of months our group will read The Woman In Cabin 10 by Ruth Ware, The Dry by Jane Harper and Jane Steele by Lindsay Faye. I'm so excited about all of these but I probably either need to order these books soon or get in line at the library. I think my library has 80 holds on the Ruth Ware book.
Anyway, do you know why I have a picture of a Barnes & Noble book shelf? Because as I was browsing before book group I realized quickly that they reorganized the mystery and fiction sections and have mixed the new releases with all the books. You'll notice that there is still a sign that says "New Fiction" but if you can see some of the titles on the shelf you'll know that none of these are exactly new releases. I clearly see a classic on there!
And, in the mystery section it seemed like it was overrun by cozies. I like cozies but I also like my noir and other thrillers. I'm not sure what prompted this change but I don't like it. I like to go to the new releases shelves and actually see the brand new books. Has your B&N made this change? What do you think? No big deal?
Alright off to catch up with some reading. One of my current reads is due back at the library soon and I can't re-new it and it's so good that I definitely want to make sure I finish it.