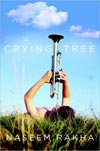 I'm very excited to have a giveaway of The Crying Tree by Naseem Rakha. The book is already getting a lot of great reviews and was recently chosen as a Fall 2009 selection of the Barnes & Noble Discover Great New Writers program.
Here's a little bit about the book: While covering an execution for public radio, and then later in her talks both with Sister Helen Prejean, and with the parents of murder victims, author Naseem Rakha was baffled by the overwhelming course of emotions facing families who are dealing with unspeakable loss. She wanted to understand how an individual could move from hate to forgiveness, despondency to hope. She wanted to know what that road looked like and what toll it must exact.
The Crying Tree is that story, told through the lives of two main characters: Irene Stanley, the mother of slain fifteen-year-old Shep; and Tab Mason, the stoic and determined Superintendent of the Oregon State Penitentiary who is preparing to execute the boy's murderer, Daniel J. Robbin.
****
I started this book a couple of days ago and am really involved in the story. I clearly see the pain the parents feel and I understand the struggles the Superintendent faces. Ultimately, I just can't imagine how it will all be resolved in the end so I'm eagerly turning the pages to see what will happen. I promise a full review after I'm done with the book.
So if you'd like to win a copy of this book, just leave me a comment and I'll do a drawing for the book on Tuesday, September 15. No rules or anything but because I'm nosy if you want you can tell me what book you are planning to read this weekend.