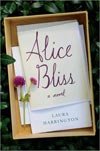 "Outside the back window Alice can see the outlines of the garden, some of the furrows visible under the snow, stretching away in long thin rows. She can't imagine doing the garden without her dad. It's his thing; she's always thought of herself as his assistant at best. She can't imagine doing anything without her dad and she starts to feel like she can't breathe. And then she looks at him. Just looks at him as he watches th efire with muffin crumbs on his lap."
Alice Bliss by Laura Harrington
When Alice Bliss learns that her father, Matt, is being deployed to Iraq, she's heartbroken. Alice idolizes her father, loves working beside him in their garden, accompanying him on the occasional roofing job, playing baseball. When he ships out, Alice is faced with finding a way to fill the emptiness he has left behind.
Doesn't this sound like a wonderful story about a father and daughter relationship? I feel like I usually read stories about daughters and their mothers so I'm looking forward to reading this book and getting a different perspective.
And guess what? Thanks to the publisher I have one copy to giveaway to a lucky winner. Giveaway is open to all readers and the winner will be announced Monday, June 20. Just leave me a comment and if you like you can tell me what is one book you are looking forward to reading this summer.
In the meantime check out Nicole's wonderful interview with the author of this novel or check out Laura Harrington's site for more details on her books.