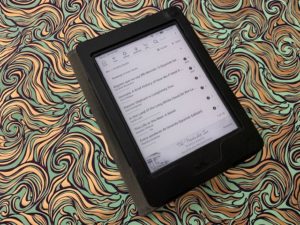 I've been doing some book shopping and as my blogging was a bit hit or miss in December I didn't get to tell you about some of the new arrivals. Here's what I've recently bought:
The Dutch House by Ann Patchett
The Testaments by Margaret Atwood
Dare to Lead by Brene Brown
I probably don't need to tell you much about those books as they are bestsellers and have been all over the internet recently.
Where I've really been adding more books to though is my Kindle. I get several newsletters with deals and I've taken advantage of those great prices. Here's what I've recently added:
Humans: A Brief History of How We F*cked It Up by Tom Phillips. Nonfiction panoramic exploration of humankind in all its glory, or lack thereof. This should be fun.
Eleanor Oliphant is Completely Fine by Gail Honeyman. Meet Eleanor Oliphant: She struggles with appropriate social skills and tends to say exactly what she's thinking. I know this one has been a favorite for many in the past couple of years.
A Place Apart by Paula Fox. A lyrical novel of loss, friendship, and moving on. This book was mentioned quite a bit in You by Caroline Kepnes and when it came up in a daily deal I couldn't pass it up.
Darkwater by Dorothy Eden. A Gothic romance that tells the spine-tingling story of a young woman caught up in an English manor's shadowed, violent past—and confronted by the very real dangers that lie within. What's not to like about this?
The next three all books in Spanish which were recommendations from Mexican booktuber, Valentina. She does wonderful reviews and I love that I also find out about books from Latin American authors whose books I probably wouldn't run across at my local bookstore.
Alguien Que No Soy by Elisabet Benavent. This sounds like a very fun romantic comedy set in Madrid, Spain.
Entre Sendereos de Lavanda by Mariela Gimenez. Anna is a forensic photographer and one summer night she'll go to a scene which will change her life.
Lunas de Estambul by Sophie Goldberg. Ventura a young, beautiful Turkish woman travels to Mexico to marry the man her family has chosen for her. She travels with dreams and to a surprising future in a land faraway.
That's a lot of new books right? I haven't even told you about all the advance review copies but we'll save that for another day. Oh and I still have a B&N gift card so I'm sure I'll be using that up soon.
So excited for a new year of books! Did you buy some new books this holiday season?