When I went on vacation in July I had stocked up my Kindle with some books and also thanks to NetGalley I found some good reads but pretty much as soon as I came back the Kindle has been put away and it's back to my stacks of books.
And, my how those stacks grew over the summer. I finally opened up all of my packages this past weekend and here's the book bundle: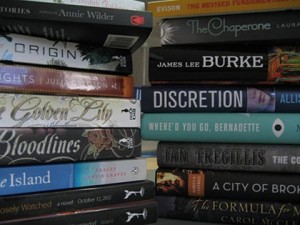 You can't even see them all! There are some YA titles, thrillers, novels, Sci-Fi and even a short story collection. Thank you to all the wonderful publishers who sent these. Here's the full list:
The Wedding Guests by Meredith Goldstein
Trucker Ghost Stories edited by Annie Wilder
Origin by Jessica Khoury
Jasmine Nights by Julia Gregson
The Golden Lily by Richelle Mead
Bloodlines by Richelle Mead
On the Island by Tracey Garvis Graves
A River Closely Watched by Jon Boilard
Phoebe & the Ghost of Chagall by Jill Koenigsdorf
The Revised Fundamentals of Caregiving by Jonathan Evison
The Chaperone by Laura Moriarty
Creole Belle by James Lee Burke
Discretion by Allison Leotta
Where'd You Go, Bernadette by Maria Semple
The Coldest War by Ian Tregillis
A City of Broken Glass by Rebecca Cantrell
The Forumla for Murder by Carol McCleary
Which one do I start with? What a good dilema to have, right?