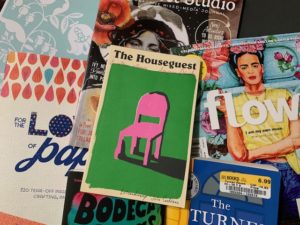 I hope you all had a great weekend. We celebrated our anniversary and aside from trying out a new restaurant where we enjoyed a very delicious brunch we also had a bit of a bookish weekend. We went to the bookstore and I purchased a few magazines, my husband got some sketchbooks and all in all it was delightful.
Now, there have been a few other book purchases lately so I thought I'd share what I've recently acquired.The books are:
The Houseguest and Other Stories by Amparo Davila. I don't read a lot of short stories but she is considered one of Mexico's finest writes of short stories so I needed to check this one out.
Next is The Turner House by Angela Flournoy. This is one of those I've seen frequently on bestseller lists and mentioned in blogland and I finally got it. A story about family, inheritances and the fate of a house.
My other book which I mentioned in my previous post is Bodega Dreams by Ernesto Quińonez. A story that takes place in New York's Spanish Harlem where Willie Bodega is king. I did start this one and think it's going to be great.
My other purchases are magazines. First though I have to say what a bummer that so many of my favorite craft magazines are no more. This year alone I think four of my favorites have already ceased publication. Anyway, I bought the latest Somerset Studio magazine because it's been a while since I purchased one of these and I get so much inspiration from these. I also got the latest Flow magazine because how could I not with that picture of Frida on the cover.
The other, which almost is a book, is For the Love of Paper. So many beautiful papers, postcards, and pages to turn into crafty projects. I typically by the Flow Book for Paper Lovers which comes out annually but this year they aren't shipping it to the States! I think I need to see if I can buy it and ship it to my father-in-law's home and just pick it up next summer when we go visit him.
There are many more new books I need to tell you about because lots of review copies have arrived. Oh and have you heard about the Half Price Books sale this week/weekend? I know you have your calendars marked! Let me know if you are planning to go and if you've made some recent purchases.